| | | |
| --- | --- | --- |
| Don Julio | Habanero | Apparent Heir |
| | | | |
| --- | --- | --- | --- |
| Houston Solution | Refugee Chex | LP Dylan's Charge | Mr. Mescal |
---
Don Julio, born 3/1/97, is the result of an embryo. His tip-to-tip measurement was 58" at five years of age with a total over 81". His conformation is good, being strong in the girth, with a good top line and very clean underneath. His offspring have been excellent, producing long bodies, correct structure, great color and a tremendous amount of horn. They are the total package. His oldest retained offspring has yet to reach the age of three. He compliments his Sire and Dam, with optimum production and predictability that will influence this industry for many years to come.

His Sire, Phenomenon (deceased), is still recognized as one of the most influential sires in the industry. Phenomenon was by Superior and one of the greatest producing females of all time, Doherty 698. His tip-to-tip measurement was 63" at the time of his death, which was a tremendous amount of horn for bull born in 1983. The quality offspring from Phenomenon still dominates the industry in breeding programs, offspring and top dollar value.

His Dam, Delta Diamond (deceased) is one of the longest horned females from her era. She was by Monarch 103 and a great WR cow named Pearl. Mr. Johnnie Hoffman utilized this female throughout his breeding program with great success. Her measurement at the time of her death was 70" tip-to-tip. She was the dam of another great sire, Tabasco. Her progeny has been very influential in the El Coyote Ranch breeding program with daughters and granddaughters still retained in the herd. This great sire can be utilized in your program, with semen available on this bull at $45.00 per straw.
---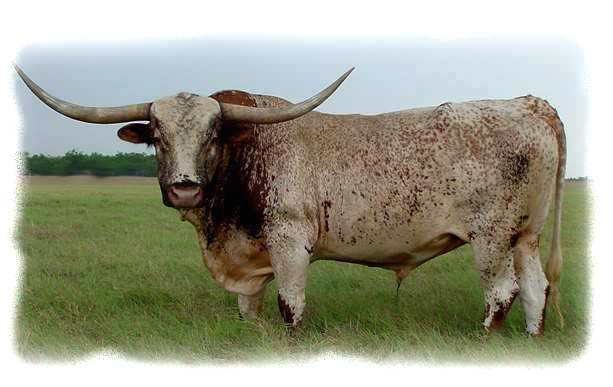 Habanero, born 2/28/98, is an exciting young sire that brings quality in all aspects of the industry. He measures up, no matter where you measure, from his nose to his tail. With a tip-to-tip horn measurement of 67 ½ ", over 62" tall at the hip, a long deep body, clean underneath and an excellent top line. He has grown up naturally utilizing what grows beneath him with great performance and his progeny looks promising. The depth of body and performance from his calves has been excellent. Great colors, with long bodies, lots of bone and a powerful structure are evident on his calves. His pedigree is packed with genetic power that has dominated the industry for the past decade. With the likes of Overwhelmer, Ranger's Measles, Phenomenon, Impressive, and Doherty 698 in his lineage, the success of this young sire is blessed by having a powerful dam and sire.

His sire is Emperor (deceased), is one of the most powerful sons out of the immortal Overwhelmer and Ranger's Measles. Emperor progeny is some of the most sought after, genetics in the industry and have held their value like no other family in the industry. He brings a total breeding package to the industry with as many females over 60" as any other bull in the industry. Johnnie Hoffman utilized this bull on some great producing females with merit that has yet to be repeated. We continue to utilize him in our program with some powerful daughters and through Artificial Insemination. He is an excellent outcross bull on quality Butler or Butler blend females.

The dam of Habanero, Phenomenal Cutie Pie, is a beautiful Phenomenon with 70" of horn tip-to-tip. She is a loud colored red and white paint cow with tremendous size and depth of body. Her udder is perfect at 14 years of age and is self maintained. She is the type of female that is destined to raise a great sire like Habanero. We will continue to utilize this great female in the El Coyote Ranch program.

Habanero's career as a successful sire is just beginning! Semen is available at $45.00 per straw.
---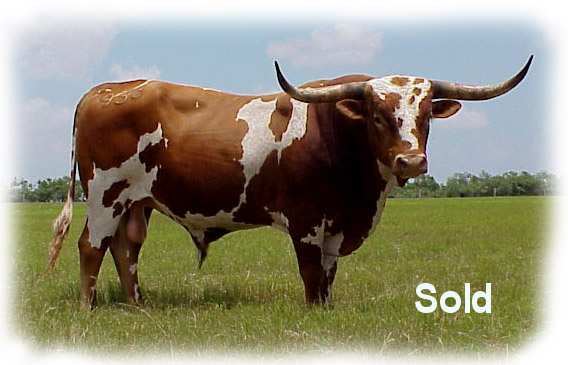 Apparent Heir, born 2/24/99, is one of the most powerful Phenomenon sons in terms of natural thickness, length and depth of body. He is a smooth featured bull with a beautiful red and white paint color pattern. With the curl and shape of his horns, his tip-to-tip measurement is 54", but had a total horn measurement of 70" at 3 years of age. His progeny has been well balanced with beautiful red and white paint color. Though just a youngster, he shows the qualities to meet the requirements of the industry.

Phenomenon is his sire and is out of one of our top-producing dams, Delta Vixen, an Emperor daughter with 69" of horn tip-to-tip. She has raised us quality animals with an abundant amount of horn and qualities for the total package. Semen will soon be available on Apparent Heir.
---



El Coyote Ranch -- "Junior Sires":

The only way to know the merit of a sire is to use him. Using a strict evaluation criteria and careful breed selections, El Coyote Ranch is trusting proven genetics, out of powerful animals for the future breeding program. It also enhances predictability and performance in sires for the industry. El Coyote Ranch is expecting positive results from these promising young sires: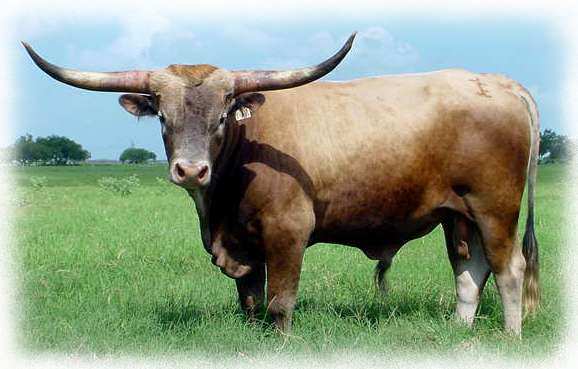 Houston Solution, born 2/19/01 is by VJ Tommie (aka Unlimited) and his dam is Country Girl, a "Coyote Branded" Tri W Broken Arrow daughter. She is the dam of Emperor's Echo, a 1998 son of Emperor. Country Girl is a wonderful producer with great maternal strengths and over 65" of horn. Houston Solution has a tremendous amount of total horn with good base circumference. He has been put on a select group of females and we are expecting quality progeny from this youngster.
---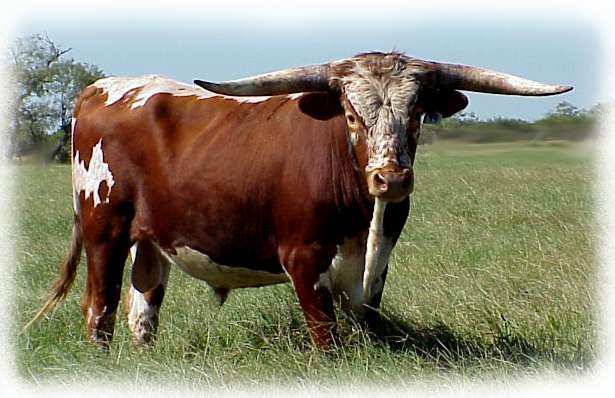 Refuge Chex, born 1/9/01, is a Coach son out of Double L Refuge, a straight WR cow with over 60" of horn and multiple progeny over 60". Refuge Chex was purchased from Bob Loomis and is now turned out with some big horned, larger framed females. He was over 50" TTT before his second birthday and brings a genetic package of horn from his sire and dam, with a pedigree of powerful Butler and WR genetics that will be utilized as an outcross. He was exposed to a small number of heifers in 2002 and his calves look promising.
---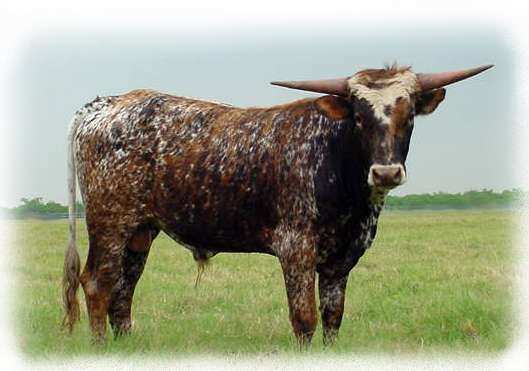 LP Dylan's Charge, born 1/1/02 is by Turbo Jet, a 1995 Jet Jockey son, whose progeny has been successful in halter and non-halter shows. A Turbo Jet daughter won her class in the Millennium Futurity 2003, where it takes a total package to win. LP Dylan was purchased from the Lonesome Pines Ranch, owned and operated by John and Christi Randolph. Dylan's dam, LP Legal Red is young Emperor daughter and is Rural Delivery on her dam's side. Dylan brings great genetics, correct structure, size, balance and a beautiful speckled tri-color brindle color all in one package. Last but not least, Dylan and all of his progeny are eligible for the Millennium Futurity. We expect great things out of this youngster and have put him with some of our best young females.
---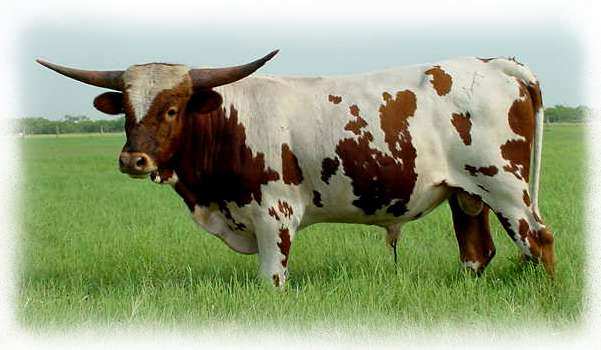 Mr. Mescal, born 10/22/01 is by Don Julio and his dam being Magic Cinnamon. Magic Cinnamon is out of one of the most powerful female families of the El Coyote Ranch program. Her dam JK Ranger's Cinnamon (67" TTT) is a Measles Super Ranger daughter and her dam; Cinnamon Girl (63.5) is one of the last of the living Anita daughters. Anita was one of the "Magnificent Seven" who were highly recognized females for production and genetic impact in the industry. CP Creek's Magic Marker is the sire of Magic Cinnamon, and brings great maternal strength to this package. She is just a four year old with high horns, already over 50" TTT and 65" of total. Mr. Mescal is showing good lateral horn growth, base circumference, body and lots of color. Include that with name recognition in his pedigree, it makes him worthy of Jr. Sire Status.
---



El Coyote herd sires are breed leaders who continue to prove the viability of Longhorn genetics on a national scale. Most all of our bulls are available for our customers' use through AI. We're always ready to provide complete pedigrees and prices, along with sharing our experience in breeding to our bulls.

You're welcome to call or use our automated inquiry tool to ask questions and to come see our sires and their progeny. We want to help you make progressive and profitable mating decisions.
---
| | |
| --- | --- |
| | |
El Coyote Ranch * P.O. Box 711 * Kingsville, TX 78364 * (361) 595-5008